Scarborough Flagstone 
Are you looking for a flagstone paver in Scarborough?
When choosing flagstone it's best to consult with a landscaping professional who is familiar with working with flagstone as there will be a variety of options and the consultation from one of our First Choice Landscaping professionals in Scarborough will guide you down the right path. We work with you to design the right pattern and choose the right colors to go with your landscaping structure.
Flagstone is an appealing stone that has been around for centuries. Although flagstone has been around for such a long period of time, it's only recently that contractors have started to use it for residential and commercial landscaping projects.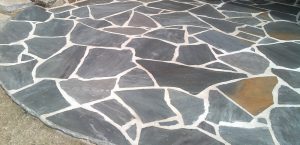 Flagstone is used for landscaping projects ranging from paths, patios, walkways, porches, steps, walls seating areas and more. There are a variety of options for flagstone such as colors, cuts, patterns and even thickness. When it comes to thickness one thing that is recommended is that the flagstone should be at least 1" inch thick for stone that is going to be placed in areas that heavier traffic or weight.
Most people find that flagstone is perfect for walking surfaces as the stone provides a natural non slip surface and because of its durability it requires very low maintenance.
So if you're looking for a flagstone contractor in Scarborough give First Choice Landscaping a call and we can have one of our flagstone paver in Scarborough come out and provide you with some solutions and options in regards to your flagstone needs.
First Choice Landscaping is the company to call if you're looking for a Scarborough flagstone contractor. Our Scarborough flagstone pavers have years of experience with flagstone installation and flagstone design. When it comes to flagstone paving you deserve the best so call First Choice Landscaping, your Scarborough Flagstone Specialists since 1995!
Contact us at: 416-882-9685 / 905-922-7664


Email- Scarborough@1stchoicelandscaping.ca